THE 2022 Christmas WE ARE THE WORLD Children's Art Exhibition shines at the Louvre in Paris
Published: 2022-12-28 17:50:02
THE "WE ARE THE WORLD" international Children's Art Exhibition opened at the Carrousel Gallery of the Louvre in Paris on December 23-24, 2022.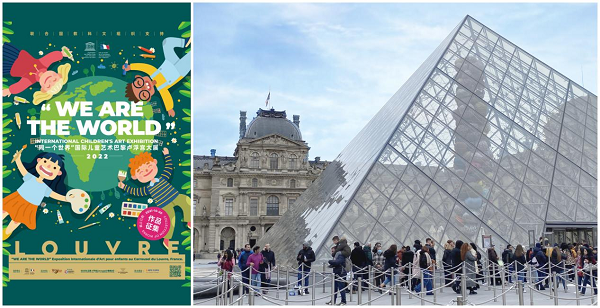 The exhibition is organized by the Association of European Artists and organized by the Organizing Committee of ICAE International Children's Art Exhibition, with the official support of UNESCO. The activity gathered excellent children's paintings from many countries around the world, showing the world children's art observation and growth wisdom. Through the art works of a new generation of children, it aroused the attention of all walks of life for children's art education, and called for every child to have equal opportunities to receive art education.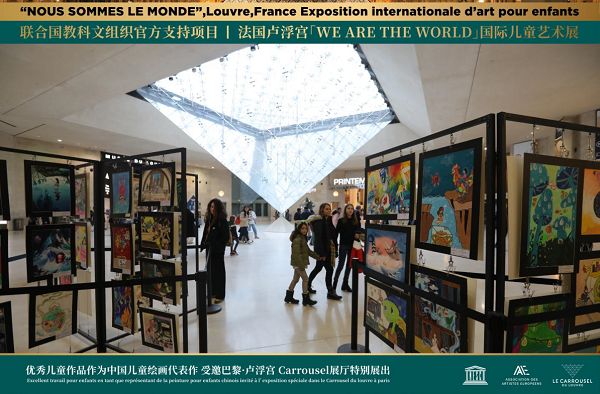 THE theme of this art exhibition is "WE ARE the World-Parallel WORLD". Children show their unrestrained ideas with bold strokes and wonderful colors. The exhibition is held during the Christmas holiday, and not only the parents of students from France, Britain, Germany and other European countries, Parents from Singapore, Hong Kong, Beijing and Shanghai also traveled long distances to bring their little artists to the scene. The young painters enthusiastically introduced their works to the visitors. Full of childlike fun, vivid and dripping performance of different skin color, different races in the eyes of children "the same world". Adults are also affected by the children full of confidence, brilliant, unrestrained childlike innocence, harmonious atmosphere, cheerful, the Louvre Carrousel Hall decorated full of childlike fun.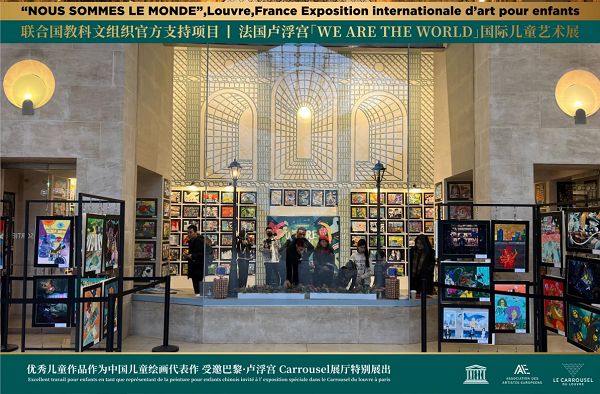 The director of the art exhibition said: "We hope to show the exquisite inner world of children in a true and free way, and also hope that they have the opportunity to see and accept the different viewpoints of children from different regions. With an inclusive heart, we respect the cultural traditions and personal expression styles of young artists from different cultures. We hope to cultivate children and artistic talents who have a larger view of the world in the future. They are the hope of the future.
With the platform of the art exhibition, the European Artists Association also spared no effort to convey the emotions and thoughts on the protection of the world's material cultural heritage. The volunteers spared no effort to introduce the ancient human murals from the deep Salahar desert to the audience, and organized the children to write postcards to the children from Africa. A promotional video shot for the art exhibition by Ousmanou Djaouro, first Secretary of the Cultural Section of the Chadian Embassy in China, was shown at the scene. He said, "I would like to introduce to you my country Chad, a country in the middle of the African continent, which has interesting, rich and diverse natural landscapes. In particular, the Chadian rock paintings are an intangible cultural heritage. Deep in the Sahara Desert, this sandstone has been eroded by wind and water into a furrowed plateau, and you'll find wonders of painting dating back to 5000 BC."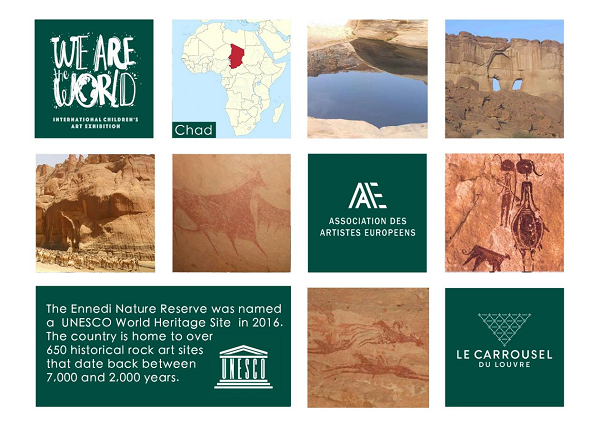 Mr. Mgardoum, Director of Culture of the National Commission of UNESCO in Chad, also sent a video message, inviting the Organizing Committee, on behalf of the Ministry of Culture of Chad, to carry out more in-depth and extensive cultural and educational exchanges and cooperation with Africa. Children are invited to participate in a traveling exhibition at the National Museum of Chad in June 2023.
Let's look forward to more exciting activities in the future.
In 2022, UNESCO officially supported THE "WE ARE THE WORLD" International Children's Art Exhibition. Some excellent children's works, as representative paintings of Chinese children, were invited to the Carrousel Gallery of Louvre in Paris, France for special exhibition. The list of honored exhibitions is as follows: Aaron Sun, Alice Huang, Amber Zhao, Annie Wang, Cheung lrene Zi Wong, Cheung Olivia Ying Zi, ColinSun, Darin Sun, Emily Yu, Ethan Liu, Fauna Chen, Faye SHAO, Grace Shen Wang, Hannah Cui Hanke, Joyce Qian, Kacie Charljun Wu, Lai sienna, LI  Li, Zu Min Liu, Bai Jiarui, Ban LAN, Bao Xinyue, Bao Yulin, Bi Xizhi, Bu Yonghui, Cao Fujia, Cao Miaoke, Cao Miaoqi, Cao Wenqi, Cao Yuan, Chen Jiao, Chen Jiayi, Chen Gengyao, Chen Mi, Chen Muge, Chen Peiyao, Chen Pinrui, Chen Qiyao, Chen Ruilu, Chen Wang Yanqing, Chen Yanxi, Chen Yanqian, Chen Yihan, Chen Yiming, Chen Yuxi, Chen Zhiyi, Chen Zixuan, Cheng Yixiao, Chi Xinran, Cui Yutong, Deng Jingxi, Deng Liren, Ding Yufei, Dong Jiaqi, Dong Jinming, Dong Jingchi, Dong Xiaoxu, Dong Yimuo, Dou Hongji, E Yutong, Fang Baiwen, Fang Sirui, Fang Xinyi, Fang Ziyu,  Hua Zhixuan, Huang Enze, Huang Junyi, Huang Lintong, Huang Siqi, Huang Tingyuchan, Huang Xinwei, Huang Yiqing, Huang Yuchen, Huang Yueyiyi, Huang Zixuan, Ji Yixuan, Jiang Ruiyang, Jiang Xinrong, Jiang Lai, Jiang Lingxi, Jiang Yanming, Jiang Ziqian, Jiang Xinle, Jiang Xinyi, Xie Yichen, Jin Shihan, Jin Yuting, Jin Yucheng, Huang Yucheng, Jin Yu, Kang Jiayouran, Lai Lanyi, Le Chenyi, Li Tongrui, Li Shengfei, Li Chongzhen, Li Daze, Li Jiyuan, Li Jiarui, Li Jingwan, Li Liting, Li Linwei, Li Manxi, Li Meihan, Li Mingyuan, Li Zhazi, Li Moxun, Li Mucan, Li Qian Sun, Li Ruixi, Li Ruijie, Li Ruoyi, Li Siqi, Hsin-yi lee, Li Yihan, Li Yining, Li Yuqian, Li Yupei, lee 妧 gwon-chul, Li Yunshu, Li Zhen, cheng-wen lee, Li Zhengru, beam books together, and language Liang Wang Liang Zhisen, Lin Qian a, Liu Chen already, Liu Fanghong, Liu Jicheng, Liu Jinxi, Liu Luoqi, Liu Peixuan, Tony qian liu fung, Liu Ruixin, Liu Rundong, Liu Runxuan, Liu Ruolin, Liu Shaowei, Liu Shijun, Liu Sihan, Liu Siling, Liu Tianze, Liu Xinlin, Liu Xiuqi, Liu Yaxin, Liu Ynuo, Liu Yilin, Liu Bixin, Liu Yichen, Liu Yiran, Liu Yueen, Liu Zhichen, Liu Zhongxi, Lu Junshan, Lu Delin, Lu Shengyue, Lu Xinyuan, Lu Yilin, Luo Shangxuan, Luo Yueyang,  Qiu Shiya, Ren Ye, Rui Xue, Merchant Ming, Shang Shule, Shen Zining, Shen Hongzhou, Shen Xuanxi, Shi Dasheng, Shi Yaofang, Shi Ruoyu, Shi Qinyu, Shi Ruoqi, Shu Zixia, Shuai Linyun, Song Xifei, Song Yufei, Su Fanjou, Su Guanwen, Su Pengye, Sun Ruojin, Sun Xinxin, Sun Yanzhi, Sun Yuchen, Sun Yudong, Sun Yuge, Sun Yuhan, Tai Junran, Qin Yuhui, Tang Shiyun, Tang Ailing, Tang Shenyue, Tang Wanjia, Tang Yuping, Tao Qianran, Teng Shiitong, Tian Jingyi, Tian Linhao, Tian Luyun, Tie Zhuoran, Wan Yuran, Wang Dezhen, Wang Zihan, Wang Biru, Wang Shengyu, Wang Haoyi, Wang Hongyang, Wang Jiayi, Wang Jinyu, Wang Jinyuan, Wang Jingyue, Wang Jingyuan, chun-chin wang, wang Wang Linxi, Wang Nianchu, just think, Wang Qing king, the king passed flute, ShiYi, Wang Sichun, Wang Sihan, Wang Wenjia, wang xi, Wang Xiangxiang, xin-yue wang, Wang Xuan 琂, Wang Yiyi, king according to lam, Jeff wong Han, Wang Yuqi, wang bo, wang zhijun kei,  Name, Xu Lang hin, Vivian hsu, xu qing wan 俽, Xu Ziran, Xu Fei tung, Xu Jiaqian, Xu Sihang, Xu Xinyu, XuanXuan, Xue Manni, 闫轶博, 闫兆坤, 闫振贤, language, YanBingWen, YanMuQi, yan yan poem rain, Yang Fei, Yang Hanqi, Yang Jingchen, Yang Pengyi, Yang Chuo rocks, Yang Songhan, Yang Yaru, Yang Yanwen, Yang Yichen, Yang Yi, Yang Yujia, Yang Yuzhuo, Yang Zhuoxuan, Yifran · Yilixati, Yi Jinghan, Yin Jiaxi, Yin Le, Yin Mingxuan, Yin Shangwen, Yin Yilin, You Jingqi, Yu Feiyang, Yu Jianning, Yu Jiangshan, Yu Linzuo, Yu Xiyao, Yu Yiping, Yu Zhuoran, Yu Zijin, Yu Zizhang, Yu Xingyan, Yuan Chenxi, Yuan Lingtong (listed in alphabetical order).